Schewe Studio
1822 West School Street
Chicago, Illinois 60657
312-286-7015
I turned to photography because I was a frustrated painter (it turns out I can't draw very well). 
With photography, there is an ability to create an image with spontaneity and a freshness that painting does not allow. Over the years, I've still kept my love of light and design originally nurtured with painting. It is with a painterly sensitivity that I now approach my vision and perspective in photography.
I like to shoot any subject as long as I can bring with it a unique viewpoint. 
Though my first exposure to photography was in the traditional darkroom, I now work by using a computer to digitally manipulate my images. The allure of total power and control over my images that digital imaging allows is so seductive that I now no long even maintain a darkroom. However, though my images are manipulated, I strive to work in a totally photo-realistic manner.
Jeff Schewe has been an award winning Advertising Photographer in Chicago for over 30 years. He is accomplished in tabletop, location, portraiture and particularly accomplished in computer imaging.
Jeff shoots a variety of subject matter and likes to control as much of the production as possible. He does this by making his own models, designing and building his own sets, painting backgrounds and employing computer imaging. He has been doing his own imaging for almost 20 years in house on his high-end Macintosh systems. 
Jeff Schewe has been described as a Photoshop Guru's Guru. He's on the inside of the development and testing of Photoshop, Camera Raw and Lightroom and has helped guide and direct many features since Photoshop 4.0. Short of some of the Photoshop engineers, there's probably not many people who knows Photoshop like Jeff.
As an indication of his skills and knowledge of fine art printing, he has been named an Epson Stylus Pro. He is a past Apple Master of the Medium and has been inducted into the Photoshop Hall of Fame (2006).
Education:
Illinois State University 1973-1974: Art Major

Rochester Institute of Technology 1975-1977:
Associates Degree with Honors in Photographic Arts

Rochester Institute of Technology 1978-1979:
Bachelor of Science with Highest Honors in Professional Photography
​​​​​​​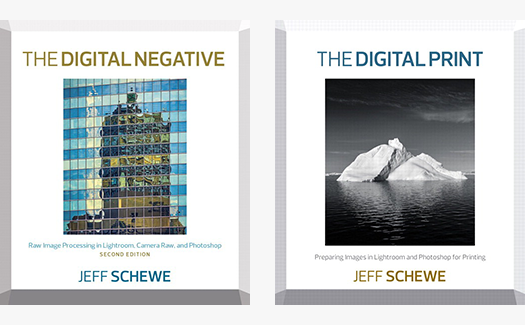 The Digital Negative is devoted exclusively to the topic and shows you how to make the most of that control to extract the best-possible raw rendering of your digital negatives and to use Photoshop to achieve the highest quality in your images.
Whether you're a digital or a film photographer, you can learn to leverage today's technologies to create masterful prints of your work, and this unique book is devoted exclusively to teaching you how.
A companion to The Digital Negative, this book teaches you how to take your already perfected images and optimize them for the highest quality final printing.
Video Interview with Jeff Schewe Produced by Epson
Prints available for sale
Please Use the Contact form to request info